CURRENTLY FILMING : 6 ROUNDS OF CHLOE
Oscar and Golden Globes nominee ERIC ROBERTS on set of Filmmaking Instructor TRISHA RAY's SAG feature 6 ROUNDS OF CHLOE, also starring Hollywood actress Kamala Lopez (24, I <3 Huckabees), Charlie O'Connell (Dude, Where's my Car), Jana Hamblin (Ballers, Jane, the Virgin), Spanish Actress Elena Martinez (Ron Howard's National Geographic Show PICASSO), and Next Actor Alum Alexandra Goel alongside several other actors from the studio. The film is proud to involve Next Actor Film Students in responsible roles as interns and crew. Casting is ongoing. Visit the film's imdb and social media for details.

NIFF HOUSTON FILM FESTIVAL
Filmmaking students join Acting, Editing and Screenwriting students to host and organize the 3rd Annual Next Internation Film Festival (Niff Houston) on October 25 - 28 in Houston. Several filmmakers travel from NY, LA, Dallas, Shanghai, New Haven and other places to present their films to a vibrant audience at venues such as Alamo Drafthouse Cinema, Match Midtown Theatres and Next Actor Studio.



COMPLETED : LUCKY NOW
Filmmaking students Denka Wangdi, Manny Ghidan and Monica Mansy wrapped their debut student short LUCKY NOW, written by Denka who is also a screenwriting alum of Next Actor Studio. The film stars Stanislavski Method Students Monica Mansy, Josh Rahman (Niff 2017 Best Actor), Kellie Hay, Sahrish Agha, Cindy Serrano and Andrea Cook. Sound is done by filmmaking student Jose Garcia. Student Manny Ghidan, a Dreamworks Intern has finished editing the short which was screened in January at the studio and is now being submitted to film festivals around the globe.

Also completed and screened with Lucky Now : Filmmaking/Screenwriting/Acting/Editing student HARINATH V.'s short film WHO AM I? which was shot, directed, edited and produced by Harinath who also acted in it. Harinath has finished two other shorts since and is creating a webseries based on his scripts.




CASTING : THE OTHER ROOM
Aug 12 & 13 : Filmmaking students Courtney Guess, Jose Garcia, JR West and Peter Kralowetz are holding their very first audition for the short script "The Other Room" written by screenwriting student Jose Garcia. The film is slated to start in September. Next Actor Acting Students are encouraged to apply for hands-on training and resume.


SCREENING : CREATED EQUAL
Sat, Aug 5 @ 3:30 PM at San Antonio Film Festival.
Screenwriting, Filmmaking and Acting Alum THADA CATALON will screen her film CREATED EQUAL, starring Lou Diamond Phillips and Aaron Tveit. Info : createdequalmovie.com

RELEASED : SEX, MARRIAGE, INFIDELITY
Screenwriting & Filmmaking Student Richard Finger's dramedy was shot in Houston and New York, starring Shannon Tweed, Charlie O'Connell and several Next Actor Filmmaking Alum got hired in the team to start their hands on training. The film is available on amazon and itunes. Richard Finger is a former writer of Forbes and current contributor for Huffington Post. He is now working on his next screenplay.



FILMING : ORPHAN TRAIN (Series)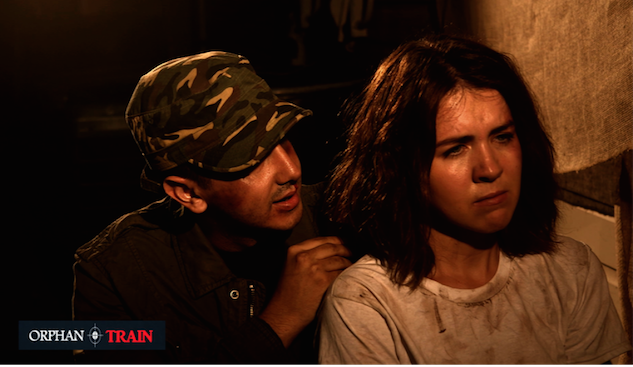 Next Actor Student Omar Shayeb in a scene with Disney star Andrea Guasch in Next Actor Film Orphan Train, written by Brian Stewart. Also stars Mahie Gill and Filmmaking Instructor San Banarje.